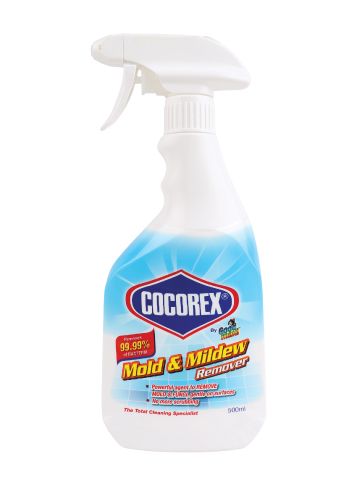 Having any unpleasant experience of cleaning tough stains in the bathroom? Feeling mad or getting tired to get rid of the stubborn stains in the bathroom?

We are proud to announce the new product - COCOREX Mold & Mildew Remover, the solution to your tough and stubborn stains in your bathroom and other home surfaces. It is with Japan formulation that easily removes stubborn stains thoroughly in one easy spray.

It contains the power of COCOREX bleach that kills 99.99% of bacteria which includes Escherichia Coli, Staphylococcus Aureus and Pseudomonas Aeruginosa that is found in the bathroom, kitchen and hand wash basin, revealing a clean and hygienic environment at your living area.

This powerful cleaner comes with scrub-free formulation that helps to cling to the stains surfaces, remove soap scrums and get rid of the tough dark mold marks effectively without damaging the home surfaces. The special trigger transforms the liquid into foam that penetrates into the stubborn stains while sticking on the stains area. Hence, scrubbing is no longer needed and it is definitely an easier way now to clean your bathroom with COCOREX Mold & Mildew Remover.